Share
Close
Account Help
Front Desk Account Instructions
For students & parents in the Bananas At Large Music Lessons Program in
San Rafael & Santa Rosa
Signing In
You should have received an invitation to create a login for your student account. Using that link, you created a login for you to use to access your Student account. With this account, you will be able to:
View your Upcoming Lesson Appointments at Bananas At Large
Pay for your Lessons remotely through the account
Set up appointments
Send notes to the teacher or Lesson Coordinator and view notes left in the appointment by the teacher
Add and change your billing information
Go to : www.bananas.frontdeskhq.com/account/sign_in to Sign In to your Account with the Login Information you chose.
After you have signed in and created a password for your account, you will have access to your Dashboard. In your Dashboard menu on the right side of the screen (on computer) or upper right hand corner drop down menu (on tablet or phone), you will have a Scan Code menu option. This is where you can find your QR code for Kiosk sign in before your lesson on the iPad in the waiting area.
Dashboard
Your dashboard will display all the options within your account on the right side of the screen OR if using a mobile device, with the drop down menu in upper left corner.
Important Notices
At the top of your dashboard you will see "Important Notices". Anything important will post here for your attention, including Purchase Requests, Notes, and unpaid lessons.
Plans & Passes
Plan : A recurring monthly or weekly invoicing of your upcoming tuition will be posted here. If you are on a recurring billing plan, this is where you will see it listed. You can click on it for more details on billing dates, invoice amounts, and more information.
Passes : If you have prepaid for a specific # of single lesson passes, this is where you will see the total amount available for covering upcoming lessons. In the example below, there is 1 pass available of the 1 that was purchased for 30 min drum lessons.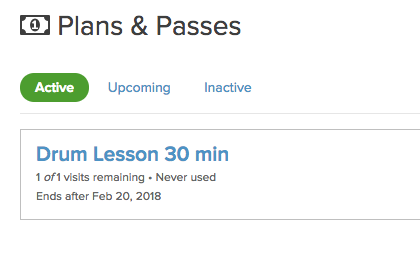 Bills
Any current or upcoming bills that are due will be listed here. You will be able to click on the bill and pay it directly through your account with any major credit card.
Payment Method
You can enter or change your credit card on file here.
Upcoming Schedule
This is where you will see the upcoming lessons for you or your child on the schedule. If you have more than one person enrolled, they will be listed chronologically. To see each person's individual appointment list, you can click on their individual names on the Main Menu on the right side of the screen (or Menu tab at the top of a Mobile Device).
Scheduling Lessons
If you are already a regular student at Bananas, you may already have lessons scheduled with your teacher. Please check your upcoming schedule prior to attempting to schedule any lessons.
If you are not a regular student and schedule lessons on a floating basis, you can use this account to schedule a lesson and purchase a pass for the lesson. You will use the "Private Lessons" menu option at the top of the screen to search for the type of Lesson, the Length of the Lesson you want, the Location (San Rafael or Santa Rosa) and the scheduler will show you available times for the teachers. You can then choose one and schedule it. If you need any assistance at all, don't hesitate to contact us.
Dashboard Menu (the Main Menu)
Located on the right side of the screen or top menu on Mobile devices.
Notifications
Your lesson notifications will be listed here. You can choose "Settings" and specifically set which notifications you would like to receive for specific things like Lesson Reminders, Notes, Bill Reminders, etc.
Text : Text notifications Email: Email notifications
Web: Online notifications only if you are logged into the Front Desk account
We recommend that you have either Text or Email notifications for your Lesson Reminders so that you will not miss any upcoming lessons.
Subscribe to Calendar
You can sync your upcoming lesson schedule calendar to your iCal, Google Calendar, or Outlook Calendar here.
Notes
In this section, you will be able to see Notes to you from the teacher or the Lesson Coordinator.
Past Visits
You can see a chronological listing of your past appointments and see any details on payment or notes within the apppointment.
Bills
You can see upcoming & past (paid) bills listed here. Any recurring monthly plans that are expected to be due in the next 30 days will be listed here.
If you have any questions about any of the sections in your account or need additional help in navigating or changing any contact information or billing information, please contact Shaana Keller at (415)457-7600 x 104.
We look forward to seeing you at your lessons!